Garage Door Opener Remote Replacement & maintenance Mississauga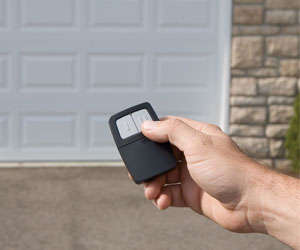 Technology has gone too far. Now, at the push of a button, you can raise or lower the most heaviest door of your home i.e. your garage door. Garage door opener remotes have made this happen. These remotes are all about convenience, convenience and convenience. You don't need to come out of your car in order to open the door manually. Just push the remote button and there you find your door ready to take in your vehicle.
Everyone enjoys this convenience, but what if your opener remote gets damaged or for some reason refuses to work. In such situation, there is one simple thing that you need to do i.e. to call our experts at Value Garage Doors in Mississauga. Our technicians are skilled to handle any make and model of opener remote. Be it the remote of your residential garage door or high-end industrial garage door, we can repair or replace it without any hassle. We not only repair or replace remotes, but also stock a wide range of branded remotes including:
LiftMaster
Chamberlain
Wayne Dalton
Genie
Stanley
And many more
At Value Garage Doors, we are committed to providing the best possible services to our clients across Mississauga. When we reach you, we will first assess the issue and reach the root cause. We will aware you about the problem and what service you require, once you agree to it, we continue with our job. Our motto is to deliver high quality services at the lowest possible price.
Our Wide Range of Garage Door Remote Services Include:
Repair/ Replace Garage Door Remote
Wired Keypad Programming & Repair
Wireless Keypad programming
LiftMaster Access Control Systems
1,2,3 Button Dual Frequency Remotes
Genie Remote & Access Control Programming Accessories
Why Choose Us?
Just like you maintain or replace your garage door, the same you need to take care of your remote. They are not built to last forever. After a stipulated period of time, the remote sensors may fail to perform their job efficiently. In such situation, it is best to call our professionals for the garage door opener remote replacement services in Mississauga. We go the extra miles to meet the expectations of our clients.
Our Features:
Experienced & professional
Prompt and reliable
Same day service
Free estimates
Locally owned and operated
We stock remotes for all major brands
Garage door remote repair or replacement