Garage Door Spring Repair & Replacement Services in Mississauga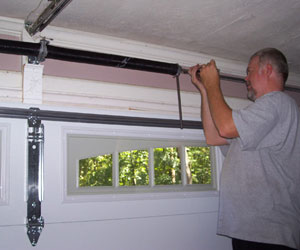 Understanding how the garage door springs work is essential to stay safe and will also help when discussing garage door spring replacement in Mississauga. Home and business owners may not realize, but garage doors are much more dangerous than you think. They are extremely heavy and can wreak havoc on the property if handled by amateur. Faulty door springs mean that your door is more likely to fall upon a person or your belongings causing immense damage. That's why, it is advised to call Value Garage Doors for spring replacement job in Mississauga. We have a team of highly skilled technicians trained to repair and replace any type of springs in a timely and efficient manner.
Two types of garage door springs for replacement
There are mainly two types of garage door springs that you may need to replace. The first one is torsion spring, which is generally used in large or elaborate style doors. These springs are a little complex, so never try to replace them on your own. The life span of torsions springs is 15,000-20,000 lifts of the garage door.
The second type of springs are extension springs that are used in contemporary doors these days. These springs are less expensive and perform around 5,000 to 10,000 lifts. When it comes to spring replacement – whether torsion or extension, it is always ideal to contact our professionals. We adhere to the highest standards of safety and workmanship and perform the task right the first time.
Why Choose Us?
Licensed, bonded and insured technicians
Garage door spring repair
Extension and torsion spring repair and replacement
24/7 emergency services available
Top-notch garage door maintenance
Overhead garage door springs
Diagnosing and repairing malfunctioning parts
And More…
Professional Garage Door Spring Replacement Services in Mississauga
Our garage door spring replacement specialists in Mississauga have the right tools and technology required to replace the springs regardless of the type of door you have. Door springs are tightly wound and can snap if handled carelessly. If you discover that there is something wrong with your door springs, just make us a call. Our fully stocked professionals will reach you to provide on the spot service. Customer satisfaction is our topmost priority. We want to see our customers completely satisfied with our services and pricing. Feel free to ask us anything about our services and parts we use.
We are here to provide you with the best possible solutions.