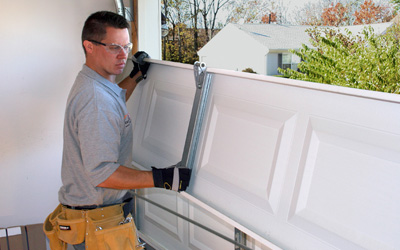 Sometimes, your garage door goes through some critical damages and thus a question arises in your mind 'repair or replacement of garage door'. These situations maybe your garage door's broken panel, it is out of balance, unable to open and close correctly and any other. You may think about the cost that may be similar for the service of the existing one or installation of a new garage door.
Apparently, if the cost of repair is exceeding then definitely replacement will be a better choice. Over the counter, there are three different causes of garage door damage considering it's repair and replacement such as:
Cosmetic Damage: Virtually, with passing time, your garage door may get dents & cracks in the panel and its paint may fade away. All these may affect the look of your garage door but do not affect its functions. Moreover, these changes are obvious as the door grows old. Usually, this is a cosmetic damage and can be repaired by spending a little amount of money.
Structural Damage: A structural damage may cause of changing weather or season like extreme temperature conditions. In this kind of damage, you have to replace the doors as it's operating system takes time and show difficulties when using. So, this is an opportunity to install the new garage door of better quality.
Functional Damage: If your door is creating a problem with its functions like a garage door is stuck, releasing loud, processing slower, etc, then the decision of repair or replacement depends on the situation. If you think, after replacing a torsion spring, it will work properly then go for the repair. Otherwise, you can consult your problem with the professional garage door services provider.
The above-stated problems may appear with an old garage door then you can prefer to install a new garage door.
No matter whether you want the replacement or repair of an existing garage door, you can hire licensed experts at Value Garage Doors. Feel free to call us 24/7 for the emergency services.