Are Broken Garage Door Springs Dangerous?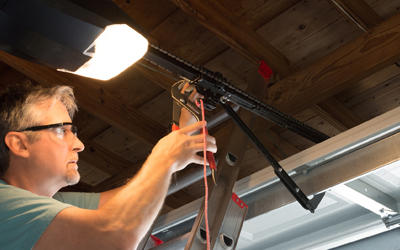 When it is a spring-break down in your garage door, it could be a serious issue to you or other objects in your garage door. Springs in your overhead door play a vital role in operating it. There are two types of springs mounted in your garage door. One is torsion spring installed in a steel tube over the top of the door that helps to transfer the weight of the door to the anchor plate. Another is extension spring that is placed each side of the door. The springs enable you to operate your garage door efficiently.
What If Springs Break Down
When spring of your garage door gets to break down, the door will forcefully come down. Unexpectedly, whatever comes beneath the door will get damaged. Even, if it is you or your family member, they can get injured. Rarely it happens that your garage door spring breaks down instantly. Most of the time, it indicates by showing some signs.
Warning Signs
If your garage door makes noise while you open and close it, you must pay attention to its repair. A noisy overhead door is a noticeable sign for its spring worn out condition.
What Causes the Spring to Break
Life Span
Quality garage door springs last for 5 to 7 years. Manufacturers give warranty that you can operate your garage door for maximum 10,000 times. But, it also depends on how many times you open and close your garage door.
Manufacturing Defect
Low-quality galvanizing contacts easily with rust and worn out. It could end up with earlier break down of the spring.
No Maintenance
A garage door requires at least twice-yearly lubrication which extends its life. Moreover, during the weather change, you should pay attention to your garage door system. A freezing and low temperature make the springs get jammed.

If you don't have time to periodically inspect and provide maintenance to your overhead door then, visit Value Garage Doors. We have a team of professional garage door experts in Mississauga. Call us today to get 24/7 emergency overhead door services.