Extending The Life of Your Garage Door With These Tips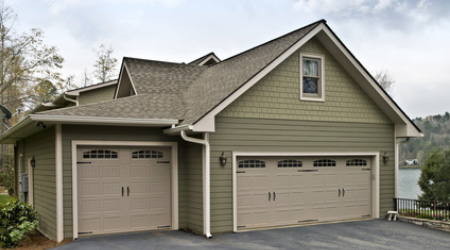 Your overhead door is something that you used a multiple times in a single day. It is crucial that it is working properly all the times. Garage doors are designed last up to twenty to thirty years. As the biggest moving part of your house, the door needs to be repaired on time. You have to make sure the door and its all moving parts are working properly.
According to the experts, inspecting the overhead door every month and fixing the issue will help you extend its life span. It includes inspecting rollers, springs, tracks, cables and other small moving parts for signs of wear and tear. But except it, the door also needs regular maintenance and repair service.
Lubricate all moving parts: Proper lubrication is very crucial for all the moving parts to keep them in good working condition. Garage door components like metal rollers, hinges, chain rail, the lock and other parts that requires lubrication. Use a light coating of spray silicon lubricant for better protection.
Keep it clean: Over the time, the garage door, especially its external surface accumulates grime, dirt and debris. You need to do some substantial cleaning at least twice a year. Get rid of stubborn dirt and debris by using a sponge and mild cleaner.
Keep an eye on performance: When you open or close the garage door, keep a close look on its performance. If you see it takes more time than it should be, it is time to think about it. Inspect the whole door very carefully. If you are not able to find the issue, it is good to hire a professional. A strange noise coming from the door is another sign of a problem. You never want to ignore when your overhead door's performance starts to suffer.
Check the balance of the door at least once a year: An out of balance door is very dangerous for you and your family members. It is posing a safety risk for those who use the door while also putting extra strain on the parts of the door. To avoid any kind of incident or other problems, you should check it at least twice a year.
Routine inspection: Finding issues on early on can extend the life of your garage door. Look for visual gaps, and other issue that are signs of misalignment. Take a close look to springs, rollers, tracks and the other moving parts and listen for unusual sounds as it opens and closes.
By following these tips, you can easily extend the life of your overhead door and avoid expensive repairs. For the regular garage door services, you can trust on Value Garage Doors in Mississauga.