Top Five Reasons Why Purchasing A New Overhead Door Is An Investment Not An Expense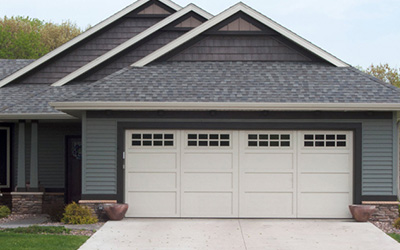 Are you confused about whether you need a new garage door or not? Maybe you cannot decide whether you want to spend money or repair the old door. Of course, we all want to maximize our investment. Maybe this is the reason many homeowners do not think about their overhead door. If you are one of them, you need to think about it, especially if you have a malfunctioning door.
On the other hand, if you want to sell your house, it is crucial that you have a garage door which is in a good working condition. House hunters often notice the overhead door when they shop for a new residence. If you want to enhance the resale value of your house, you need to consider about your old or malfunction garage door.
Add value to your house: A new overhead door instantly adds value to your property. It gives the all important curb appeal that today's house hunters looking for. With an older door, there are chances that the buyer may not like your house. Because an overhead door is the first face of your home.
Making your house more secure: If you have an attached garage, a garage door is potentially an easy access point of your house. It means you need a make your door as secure as possible. At the present time, modern doors come with various security features that can keep your home and family more secure. A new overhead door can provide you peace of mind.
Save money on cooling and heating your house: If you have an uninsulated door, it could be affecting your house's energy efficiency. If your door is twelve to fifteen years old, the chances that the door is not insulated. Replacing the old door with a new insulated door can help you save your hard earned money on electricity bill.
Save money on maintenance: Old and malfunctioning doors can be a real pain to maintain. Old doors are inefficient and they require frequent repair services. An old wooden overhead door requires a fresh coat of paint every one or two years. How many times you have repainted your door? A new door will reduce the maintenance time and cost as well.
Enhance your home's appearance: Installing the new door improve your house's appearance. If your overhead door is several years old, it could be making your home's exterior look unkempt. If you have a plan to sell your home in the future, improving the exterior look is an essential decision for making a great first impression on buyers.
These are just a few benefits of replacing an old door, there are many others. If you want to replace your old garage door with a new one, we have a number of resources to help you get started. If you are ready to replace the door and want to know about the garage door material, contact our professionals at Value Garage Doors in Mississauga.