Six reasons To Invest In A New Garage Door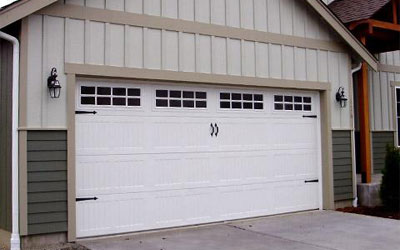 Replacing the old garage door with a new door is one of the top home improvement projects. You can replace your old door to get the highest return on investment, when it comes to sell your house. An overhead door is a highly practical part of your house and you operate it several times in a single day. Due to its regular use, it may create some problems.
Investing in a new garage door is not vanity, in fact, sometimes it is a necessity. You have 12-15 years old garage door and you might be in love with it. But sometimes it is good to let it go or let it retire.
Following are some common reasons why you should invest in a new overhead door.
Add value to your house: Replacing your old overhead door with a new stylish door will enhance the value of your property. If you are thinking to sell your house, the door of your garage is the biggest factor in the value of your house. A damaged or broken door will have a negative impact on the buyer's impression. Having a good looking and stylish door helps increase the value of the home.
Saving on maintenance cost: There is no doubt that newer doors need less maintenance than the old ones. The older doors require maintenance service every month. A repeated maintenance can kill your bank balance and it have a big impact on your monthly budget.
Mitigate energy costs: With an older door, you are just wasting bucks on energy costs. A door without an insulation layer can hike up your energy bill and also affect the temperature of your home. A proper insulated door will help you to keep things warmer in the winter and cooler in the summer season.
Increased safety: A wear and tear door can represent a genuine safety risk. Due to the thousands of open and close cycles, the door and its parts become weaker. If you ignore the door and leave it in a bad condition, anyone of your family can get injured easily. So, to protect your loved ones, it is crucial to replace it with a new one.
Noise reduction: An old door can create a weird sound like a tank is rolling through the house when you open or close the door. Your neighbors can complaint you due to awkward sound. Investing in a new door is a good way to eliminate the noise pollution from both inside and outside the house.
Upgraded technology: If you have fifteen to twenty years old door, it is time to think about a new door. An older door may don't have security features as modern doors have. Nowadays, modern doors come with various security features.
There are plenty of reasons to replace an old overhead door with a new one. The given are just a few of them. With so many options, it is very difficult to decide which one is good for you. If you want to upgrade your garage door, we will help you to choose the right one for your home.